Dad: He is risen.
Byron: He is risen indeed.
I don't know why... I think it's the true joy my Dad has for that customary Easter greeting... but it's one of my favorite things in life. The greeting, with anyone, is special... but with my Dad (for me at least) it takes on added significance.
Anyhow, I took the South Shore back in from Valpo and I'm enjoying a leisurely Sunday evening, watching the Cubs. And for Dinner, I made Pasghetti.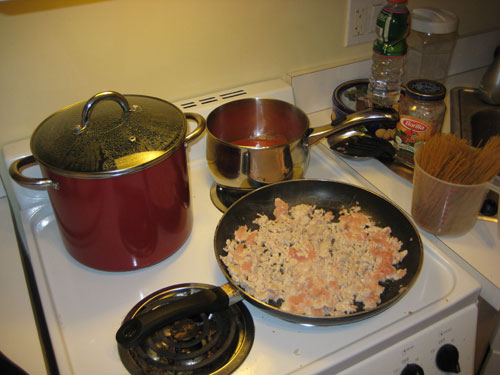 In part as a response to the recession (and in part due to my tendency to eat poorly when I buy my lunch), I have been bringing my lunch to work this year. Some weeks I'll go to the deli and get sandwich meat, and some weeks I'll make a family sized portion of food and then bring in tupperwares for the next few days.
Pasghetti is my favorite of these meals... because it's tasty, and very easy to make.
Recipe:
1 pound of Whole Wheat Thin Spaghetti
1 or 2 Jars of Spaghetti Sauce - Barilla is my favorite. (1 jar is pretty dry, 2 jars is a little runny)
1 pound of ground beef or ground turkey
Preparations:
If necessary, take the meat out of the freezer and defrost in Microwave
Put 4 quarts of water on the stove, high heat
Brown meat in pan
Dry out water measurer thing... take hand fulls of spaghetti and break into three or four sections. This shortening of the spaghetti makes it Pasghetti
Empty jars of Sauce into sauce pan.
When meat is browned, add meat into sauce, put saucepan on med/low
When water boils, add Pasghetti... make sure to set microwave timer for 6.5 mins
Stir both sauce and Pasghetti periodically
When timer rings, drain Pasghetti in the sink, then dish up into four Pad Thai-to-go containers. Take Sauce, and split into the containers.
Enjoy one Pasghetti, put the tops on the other three, refrigerate, and nuke when it's time to eat.
Easy as pie, takes about half an hour to cook... and you get three lunches and a tasty dinner.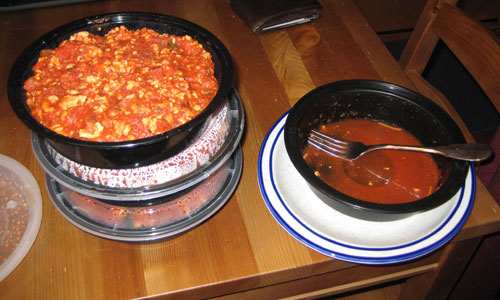 And will I eat Pasghetti for lunch tomorrow? No! I'll be chowing down on burgers, brats, and dogs on a rooftop across from Wrigley Field, watching the Cubs open their home season against Colorado. Woot! I can't wait.
Mood: Full of Pasghetti, giddily excited about tomorrow.
Music: Listening to Pat & Ron call the game on WGN-AM, watching on ESPN. (Can't stand Joe Morgan!)
Link dujour (for Mom): Far Away From Wall Street, a Herd Gets Gored.